Dtec Ventures joined 500 Startups, Oman Tech Fund and Silicon Valley-based Social Capital as investors in Dubai-based B2B automotive data startup, AlgoDriven.
Founded by Glenn Harwood and Jaron Crossland in 2017, AlgoDriven developed a SaaS-based vehicle appraisal system for car dealers to do complete data-driven car appraisals and enables sales teams of dealership trade more cars with the help of tools and data.
The right combination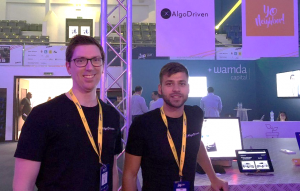 The Founders of AlgoDriven have a combined technical and commercial expertise. AlgoDriven's core product "EvalExpert" was developed personally by Glenn, who has been coding from a very young age and has the expertise of a full stack developer, coupled with 12 years of automotive experience (e.g. Mercedes Benz, BMW in Abu Dhabi). Whereas, Jaron's family has owned car dealerships and he ran dealership brands like Mercedes-Benz, Mazda, Chrysler, Jeep and Kia. Together, they built a product specifically for the GCC market, Australia and New Zealand.
Their motivation to build the venture was driven by their frustration at the process of evaluating cars.
"We decided to build a mobile app to help car dealers with this problem- valuing used cars they wish to purchase or trade-in...That evolved from there, as we found that banks, insurance, fleet, and classifieds all face a similar problem." says Glenn.
Investing in the Product
In an interview with Entrepreneur Middle East, the Founders shared how they made a conscious decision to invest in the product first, rather than marketing.
"We believe an amazing product will lead to customers who are raving fans, and they will do our marketing for us."
With their combined automotive experience, Glenn and Jaron built their products to be region-specific, localizing their app to accommodate various nuances and differences -- such as vehicle types, terminologies and process flows. "We're also obsessive about accuracy and quality- ensuring that we produce the best possible products for our clients and build in feedback loops that we can keep improving."
"We're also obsessive about our accuracy and quality -- ensuring that we product the best possible products for our clients, and built in feedback loops that we can keep improving."
Why Dtec Ventures invested in AlgoDriven
AlgoDriven operates in the transportation and data spaces which we see are both large markets. Automotive data market alone is worth $6.8B globally, and $221M in the MENA region. The company's speed of growth since launch and their portfolio of clientele are also impressive.
But the core driver of our investment decision is the Founding Team whom we consider strong and with a rare combination of technical and commercial skills. Both of them have extensive automotive experience -- spanning more than 35 years combined. Glenn being a coder and having built the AlgoDriven product himself is a major plus and we believe that this blend of technical and commercial expertise allows them to do strategy, business development and product development at a much faster rate. The speed of growth and traction evidences their ability to iterate, add value and execute over the long term.