"We want to help companies and teams boost productivity and collaboration through a great user experience and web content." -- Sami AlSayyed, Co-Founder
Tech at core
ShortPoint is one of the first startups that was incubated by Dtec and raised funds from Dtec Ventures. It was co-founded by Sami AlSayyed, Anas Nakawa, Serhiey Shekkovstov, Jamal Al Madani, Volodymyr Nazarchyk, and Ala Batayneh. The startup's core idea of building a software that would allow users to design websites with no coding needed was a perfect match with the programme's directive. With funding from the programme, along with mentorship and network support, ShortPoint started their operations and have been revenue generating since October 2015.
As a "cheat code" of sorts for users to renovate websites without writing a line of code, Shortpoint is compatible with platforms SharePoint, Office 365 and Azure Cloud. In 2016, Shortpoint was listed in the SAP Platform.
Sami AlSayyed shares their story of collaboration with SAP on TechEd in Barcelona:
What's next?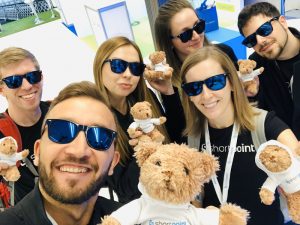 In 2017, ShortPoint joined the 500 Startup's Acceleration Program in San Francisco. The company has set up a subsidiary in the U.S. and is now working on scaling their business.
To date, the company has raised more than $800,000 from investors including Dtec Ventures, Dubai Angel Investors, 500 Startups, Tjdeed Technologies, and the 22X Fund. They've grown their team to around 30 staff spread across 3 countries, serving more than 800+ clients across USA, Canada, Australia, Europe, Asia and MENA regions. Notable names include NASA, GE, Novartis, BNP Paribas, Volkswagon, EPSON, Pepsi, IKEA, Xenon Germany, Estee Lauder, Aramex, Toyota, Targus.
Why Dtec Ventures invested in ShortPoint
When ShortPoint joined our incubation program, we saw an idea that was both innovative and tech-at-core, which for us, is a very attractive combination. The idea of empowering Microsoft SharePoint users to easily produce an impressively designed output (website) without having super technical know-how, at a time when there were very few similar players in the market (if any), was an appealing proposition.
And as a SaaS offering, we believed their potential to scale is massive as it can cater to wherever there is a Microsoft SharePoint is in the world, regardless of type of business, or location.
Headed by Sami, we saw a team that was young, driven, motivated and with the domain expertise in designing a technical product. We believed that with the proper guidance and mentorship, the team had the capacity to produce and execute, and to grow the business to its global potential.